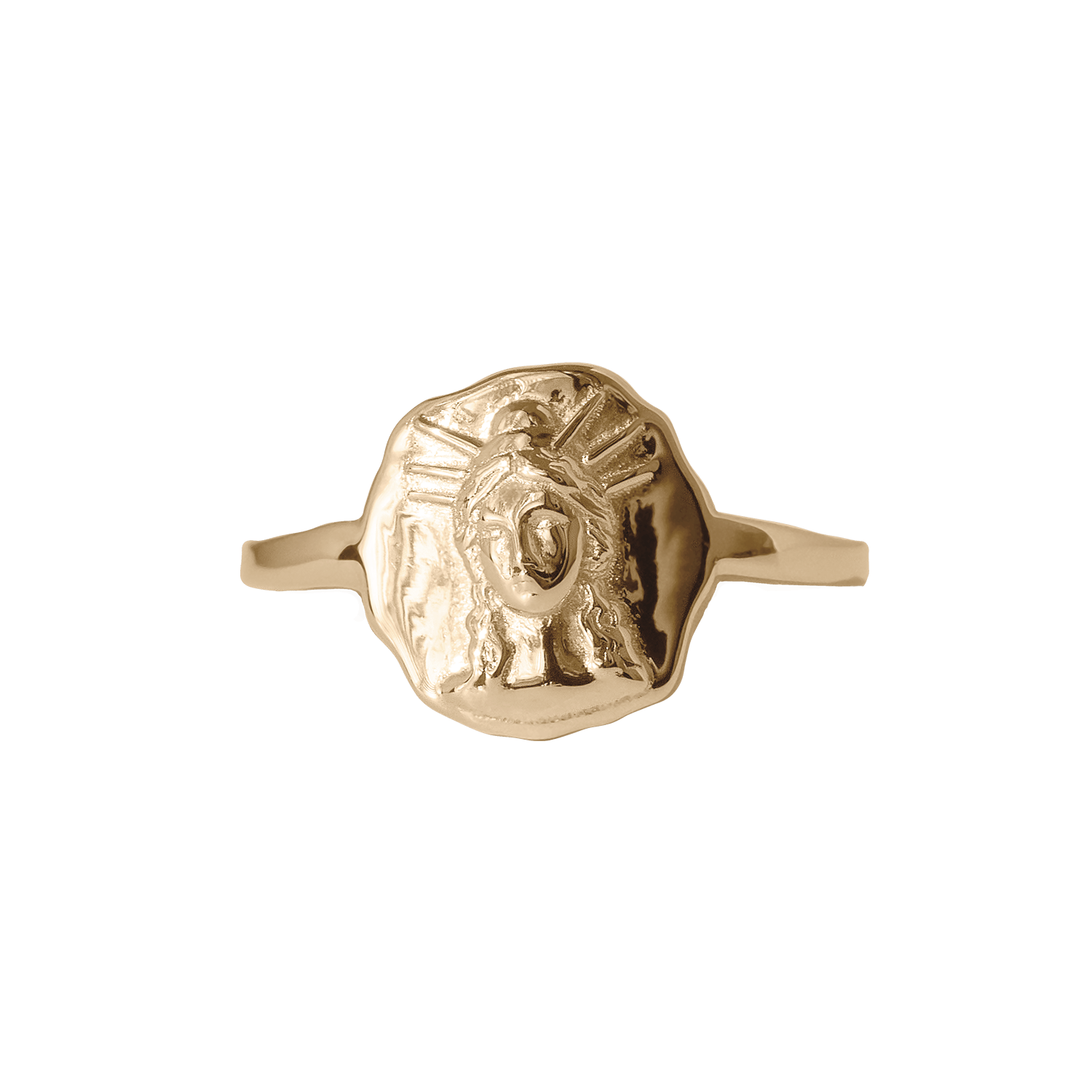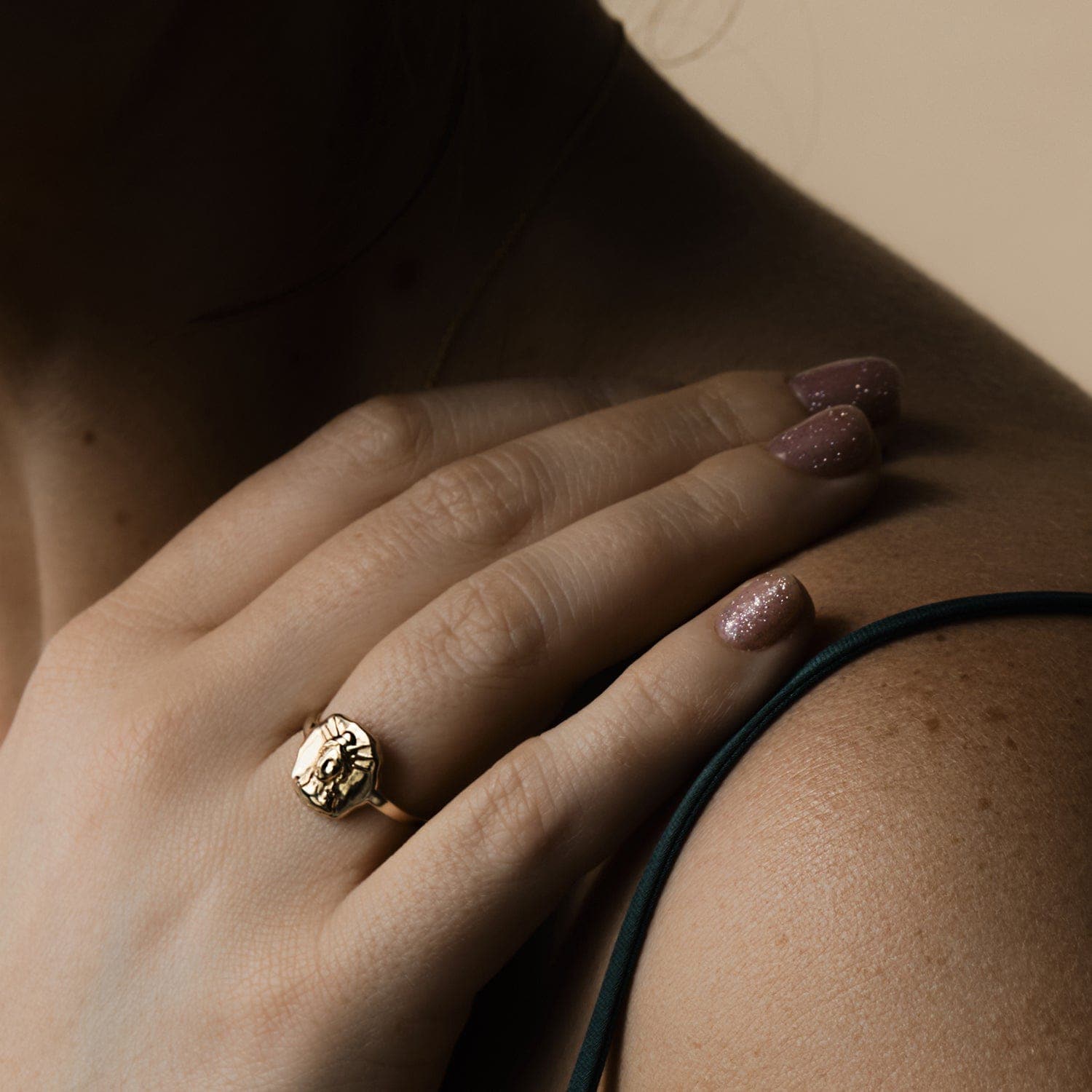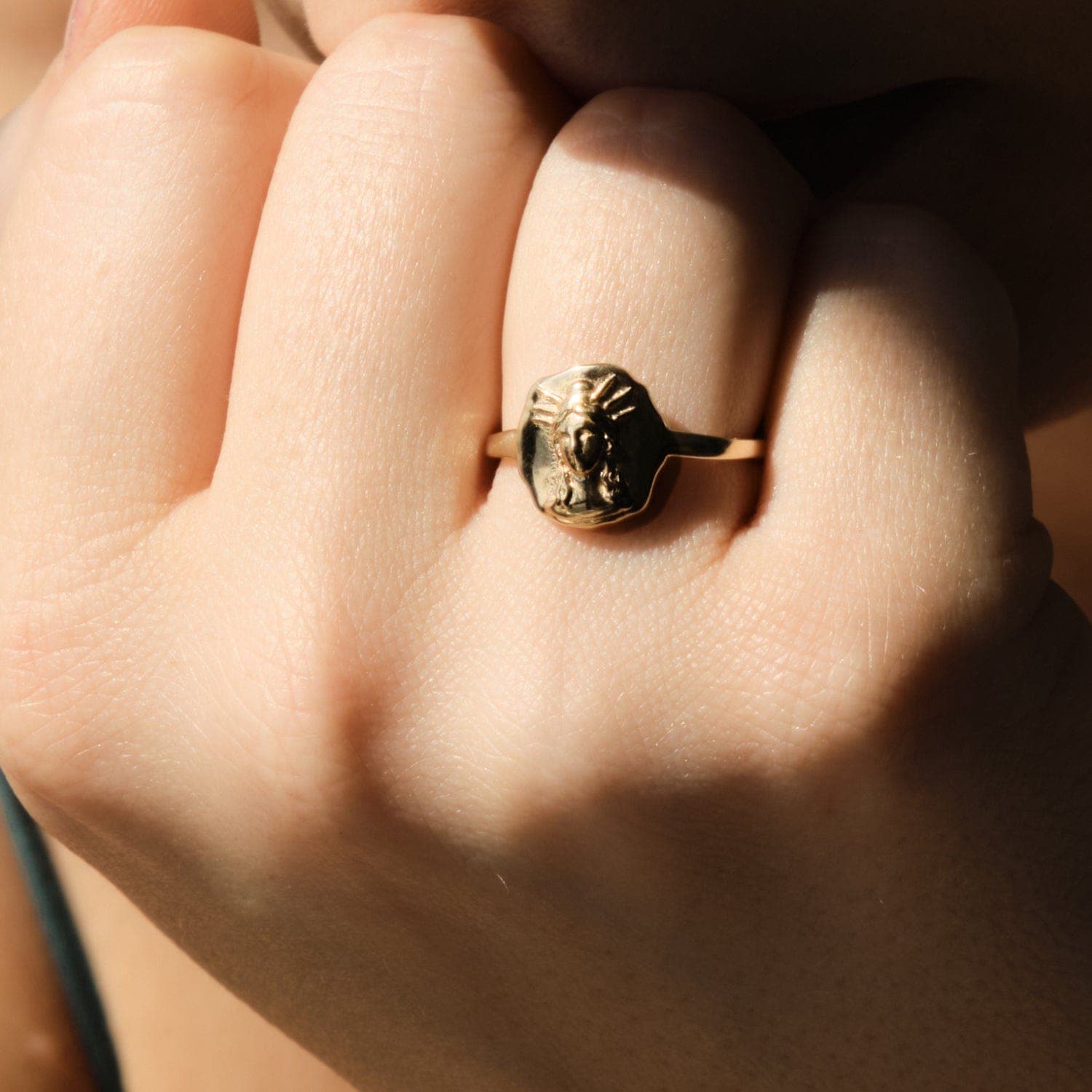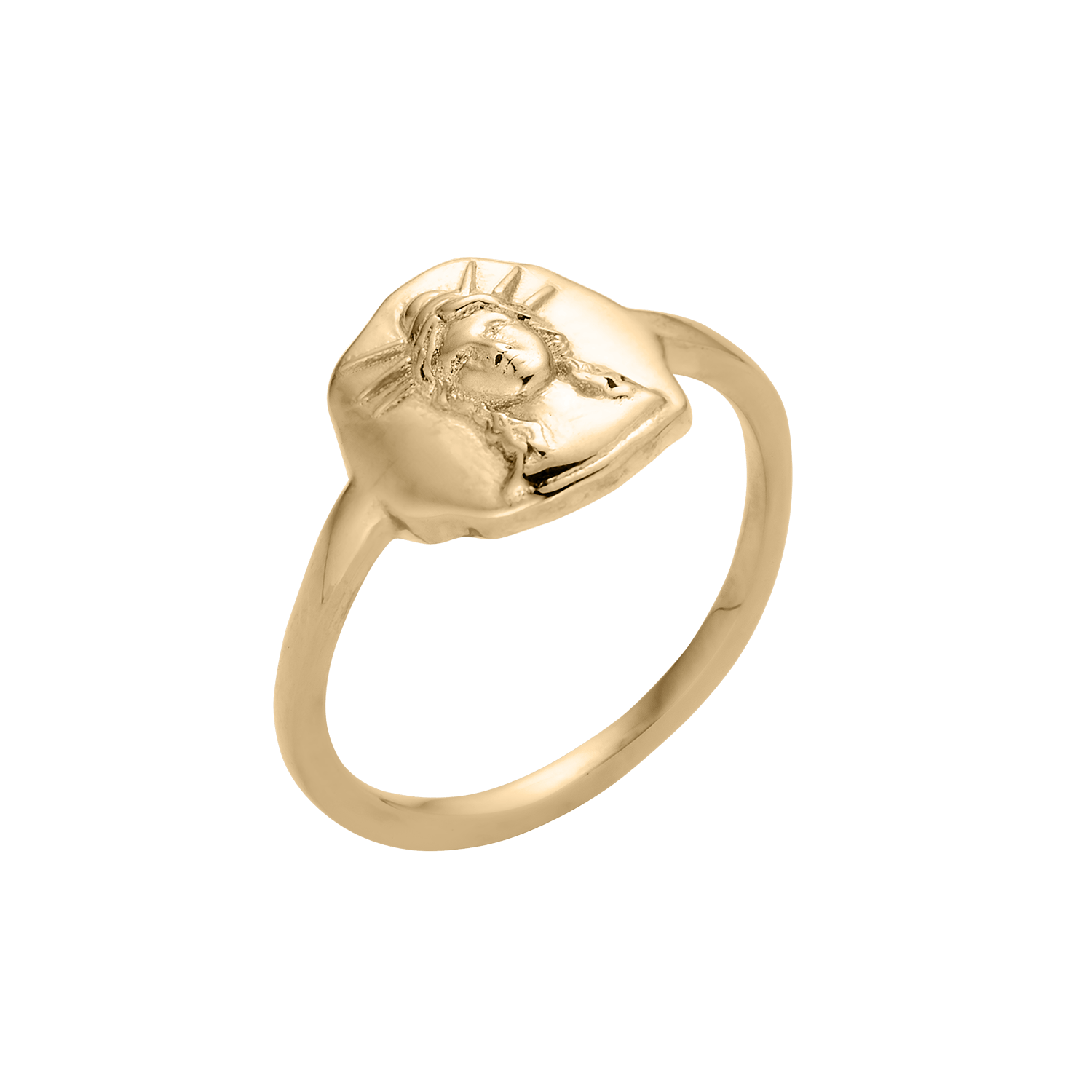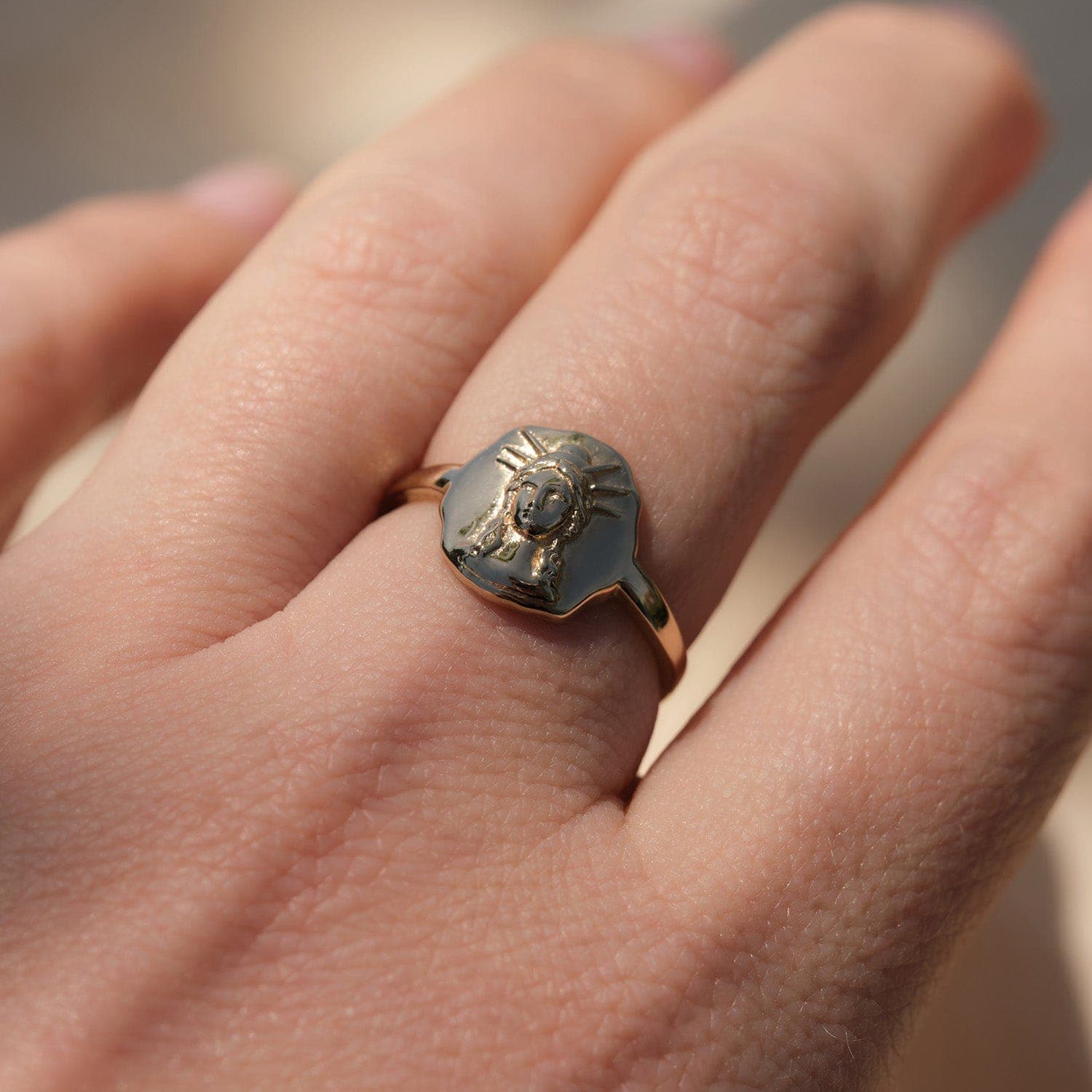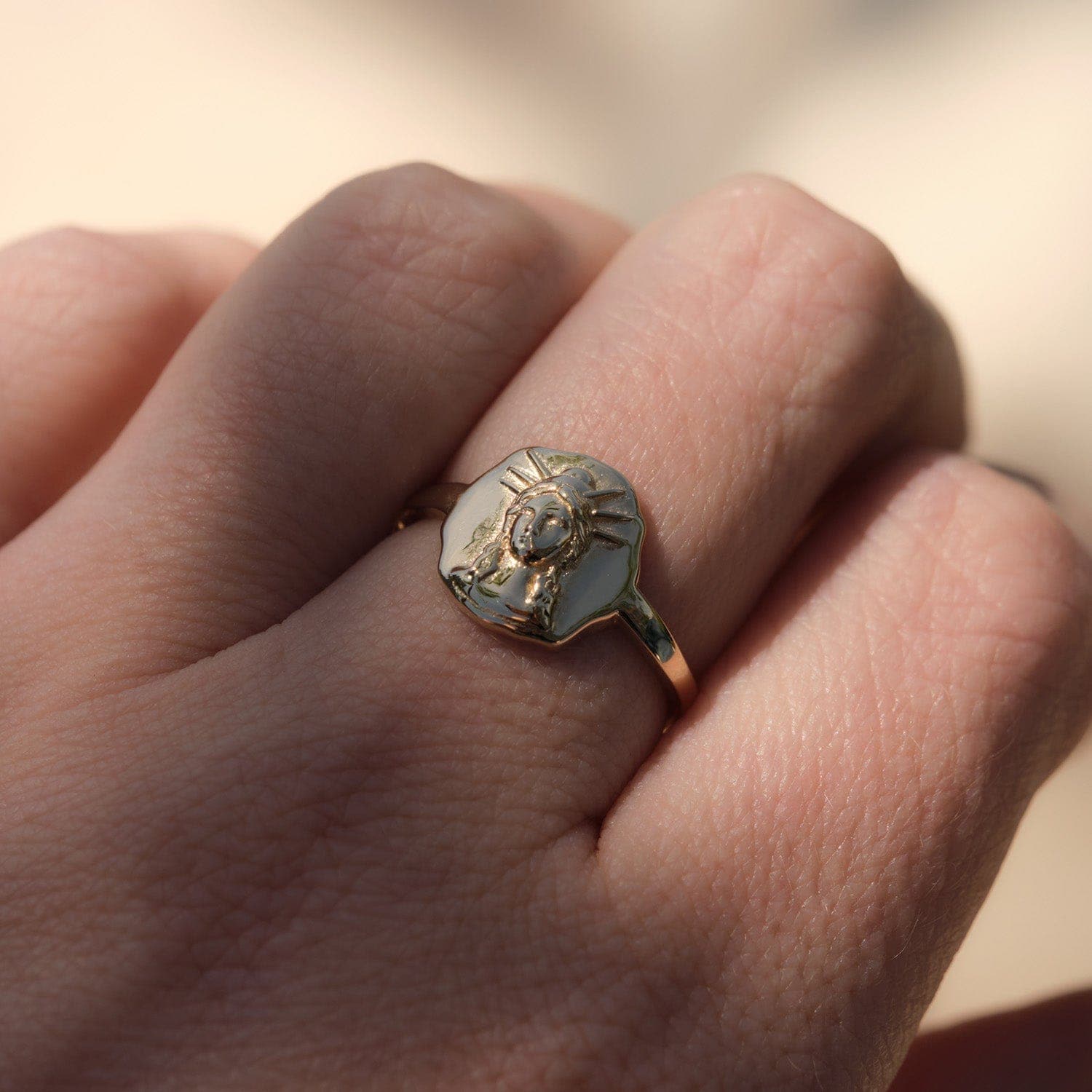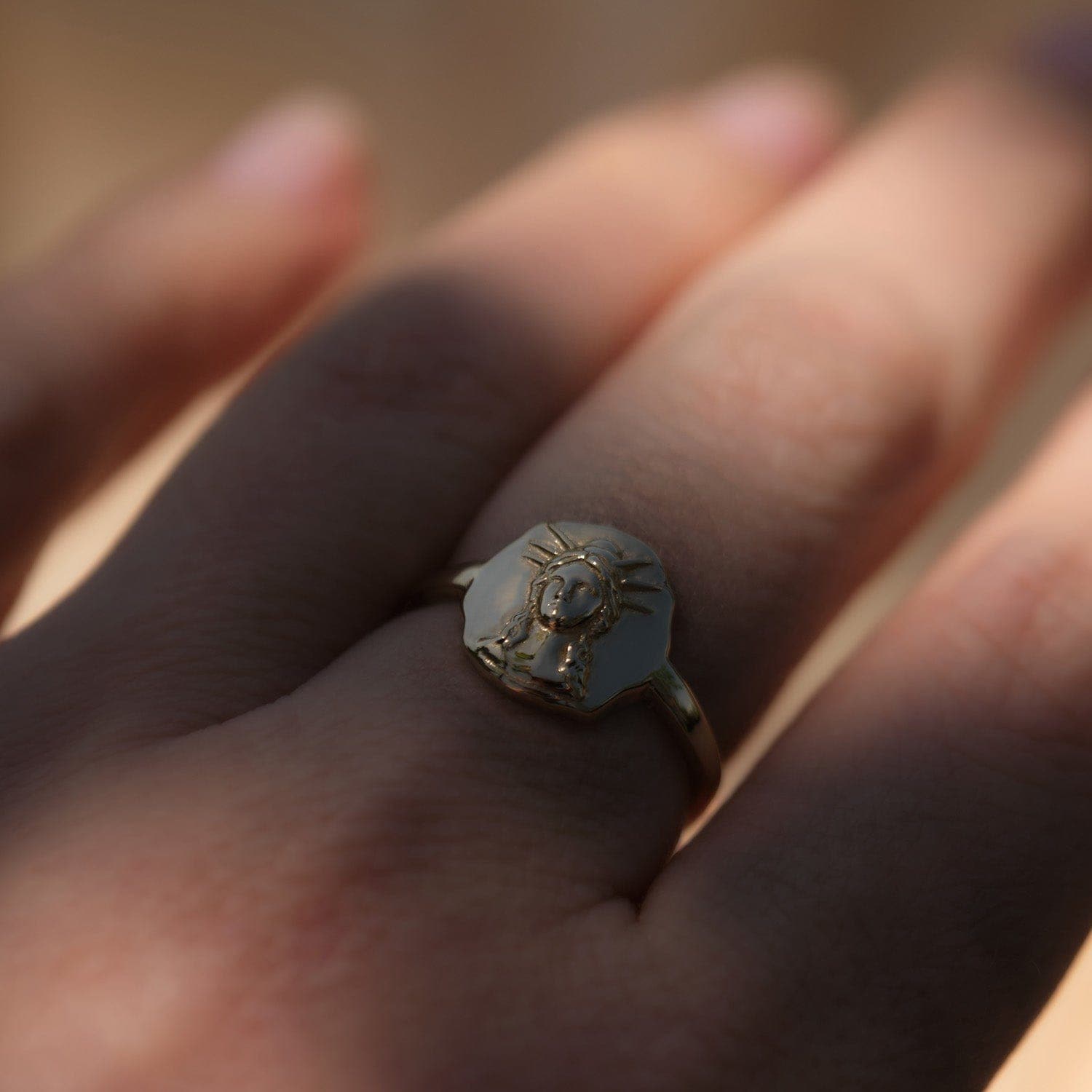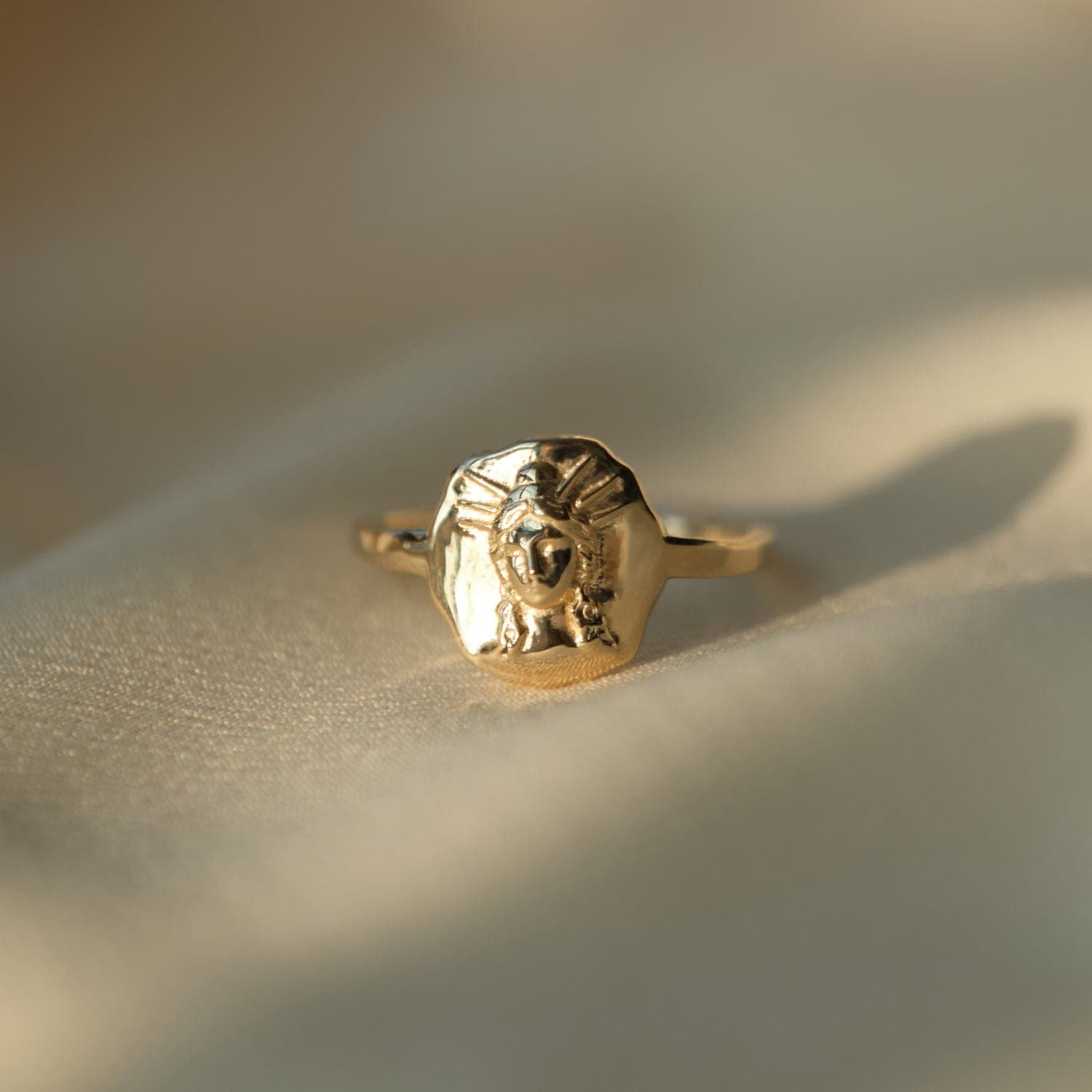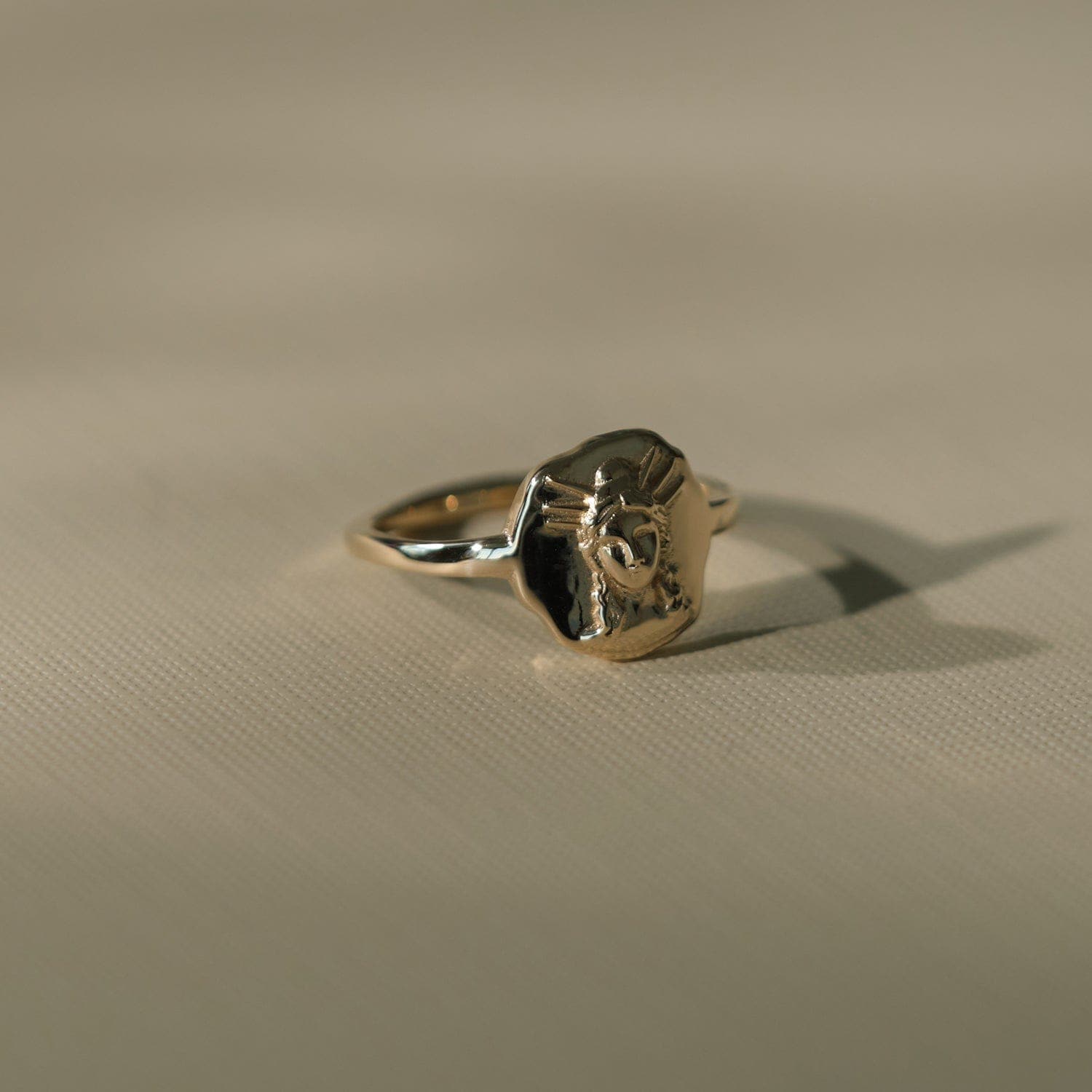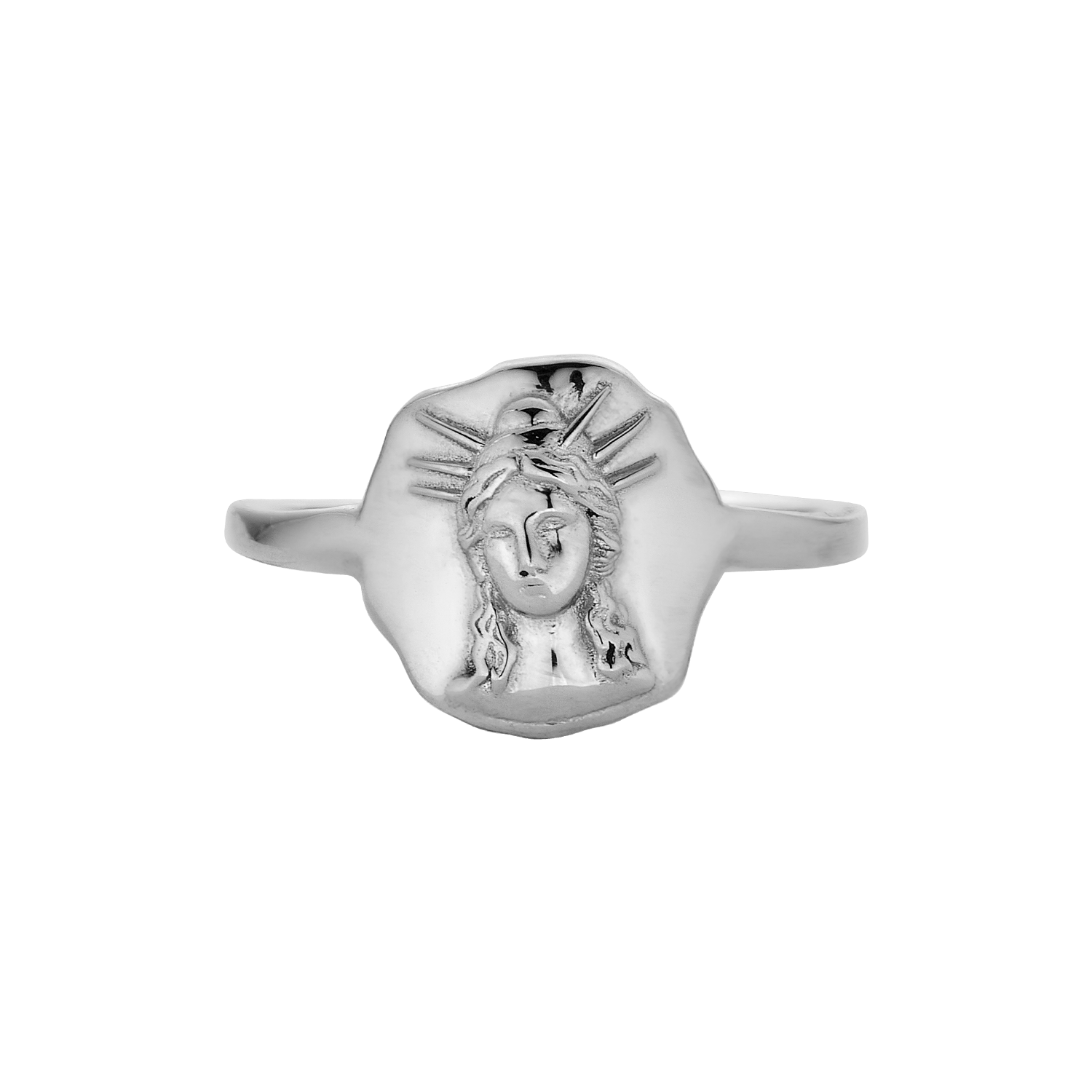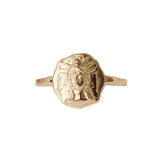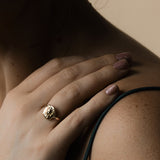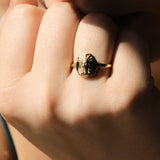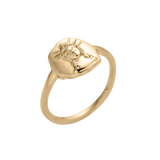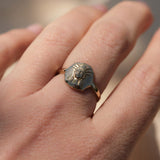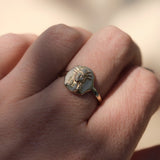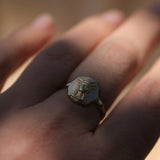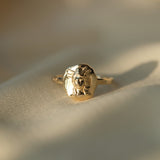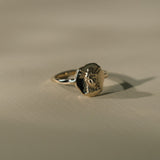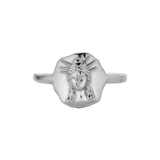 Free shipping and returns
Fairly made, fairly priced
Description

Hecate is an arcane goddess, a Titan born in the Mediterranean thousands of years ago, honored and respected even by Zeus himself. When casting down the other Titans, the thunder god would not—could not—do wrong to Hecate, nor take away anything that she ruled over.

Hecate's dominion is over all that is in-between. She lives in the liminal space between the world of the living and that of the dead, and she alone unlocks the gates of death. Under her otherworldly domain are crossroads, tombs, wanderers in the night, and ghostly travelers making their way to the Underworld.

The darkest of magics belongs only to Hecate, who dabbles in sorcery that no other god or goddess dares attempt: it is too old, too sacred, too volatile.

This molten gold ring is inspired by the ancient Roman sculpture know as the Hecate Chiaramonti, which lives in the Vatican Museums

Cast using the ancient lost wax method from in 100% recycled 14k gold, each ring is handcrafted to order in our NYC studio - please allow 2 weeks for your ring to ship.
Why Solid Gold ✨

Solid gold is the best option if you:

1. Want to wear your piece forever or pass it down as an heirloom. Solid gold will last for centuries without degrading.

2. Want to invest in jewelry as an asset rather than an accessory. Gold traditionally appreciates in value and can always be melted down and made into a new piece

Unlike many brands, our gold is never hollow - it is always 100% solid, cast using the lost wax method, meaning there is a lot more gold in each piece.

Our gold is 100% certified recycled and each piece is handcrafted here in New York.
Product Details 🔍

Metal:
100% recycled solid yellow, white, or rose gold

Ring Dimensions:
Face: approx 12mm x 12mm x 3mm
Band: approx 1.55mm2mm thick
3.5 - 4 grams

Made in New York City


When will my piece ship? 🚚

We keep a small inventory of solid gold pieces - please check about the 'Add to Cart' button to see if your piece is in stock.

If not, it will display the estimated ship time so that we can custom make it for you in our NYC studio.
What does Traditional Retail Price mean? 💸

Most brands sell through boutiques and department stores, where the pricing model is usually a 2 - 4x markup from their wholesale price. For example, the jewelry brand sells the piece to the store for $1000, and then the store sells it to you for $2,500.

Because Common Era sells directly from our studio, we can give our customers the same pricing we would be giving to wholesale stores.
---
FAQ

When will my order ship?

All pieces except for made-to-order solid gold will ship within 24 hours on business days.

Solid gold orders ship from our NYC studio and the time to ship is indicated above the "Add to cart" button on those pieces.

What if my piece is lost in the mail?

This is in incredibly rare, but if it happens we will make it right with a free replacement.

Solid gold pieces are always shipped with signature required to ensure this doesn't happen.

Does your jewelry come in a box or a pouch?

Both! Our packaging is made in Chicago and consists of a peach-colored vegan suede pouch in a branded box, so they're easy to wrap up as gifts.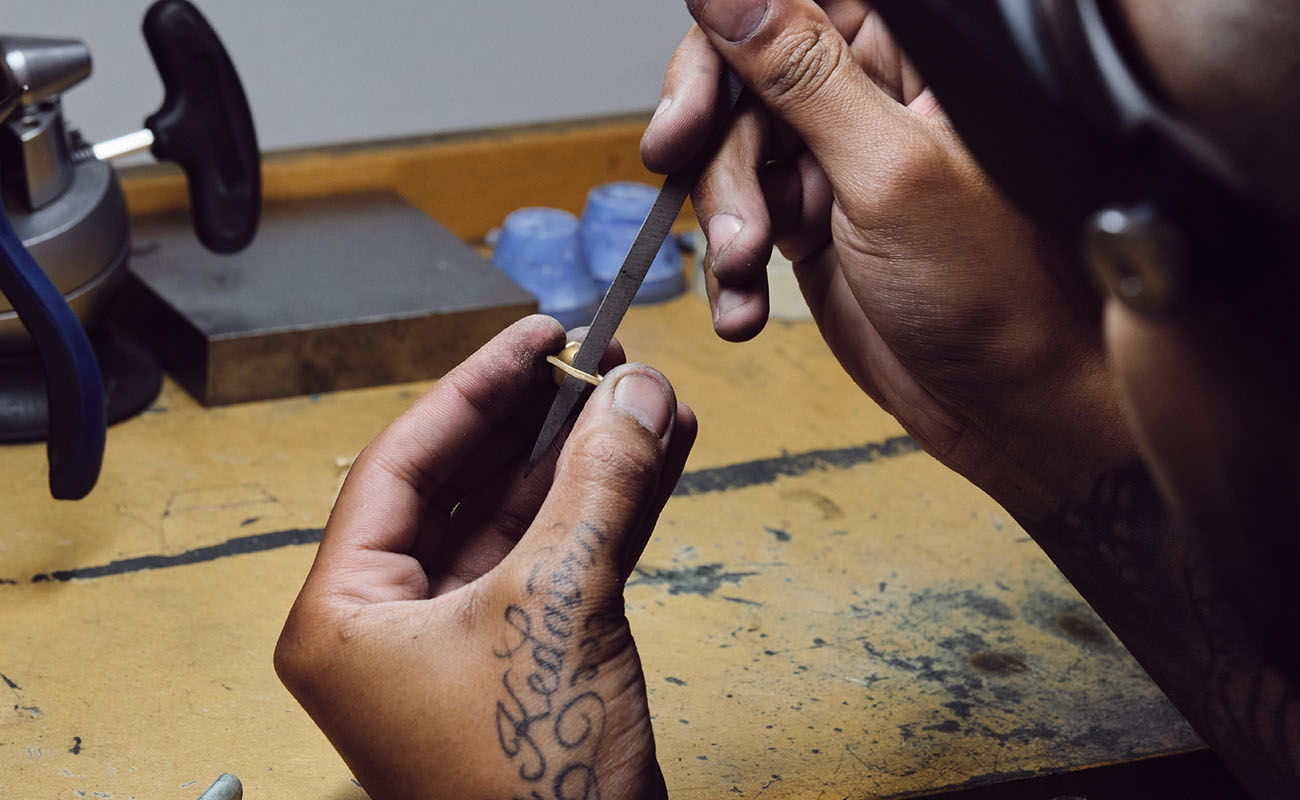 FEATURED BLOG
People are always curious about how jewelry companies price their pieces - how can that tiny little piece be worth $3000? I was one of those skeptical people until I founded...