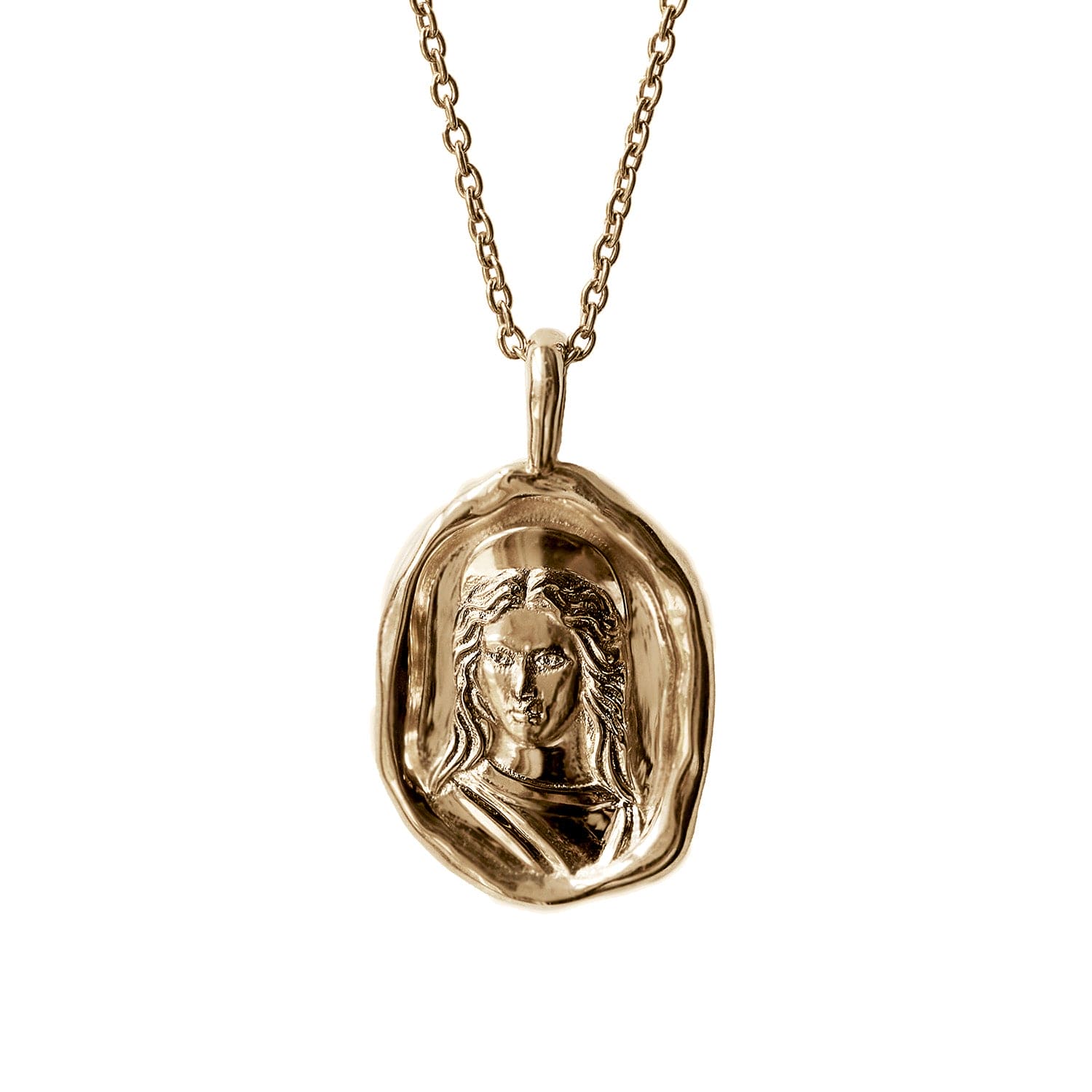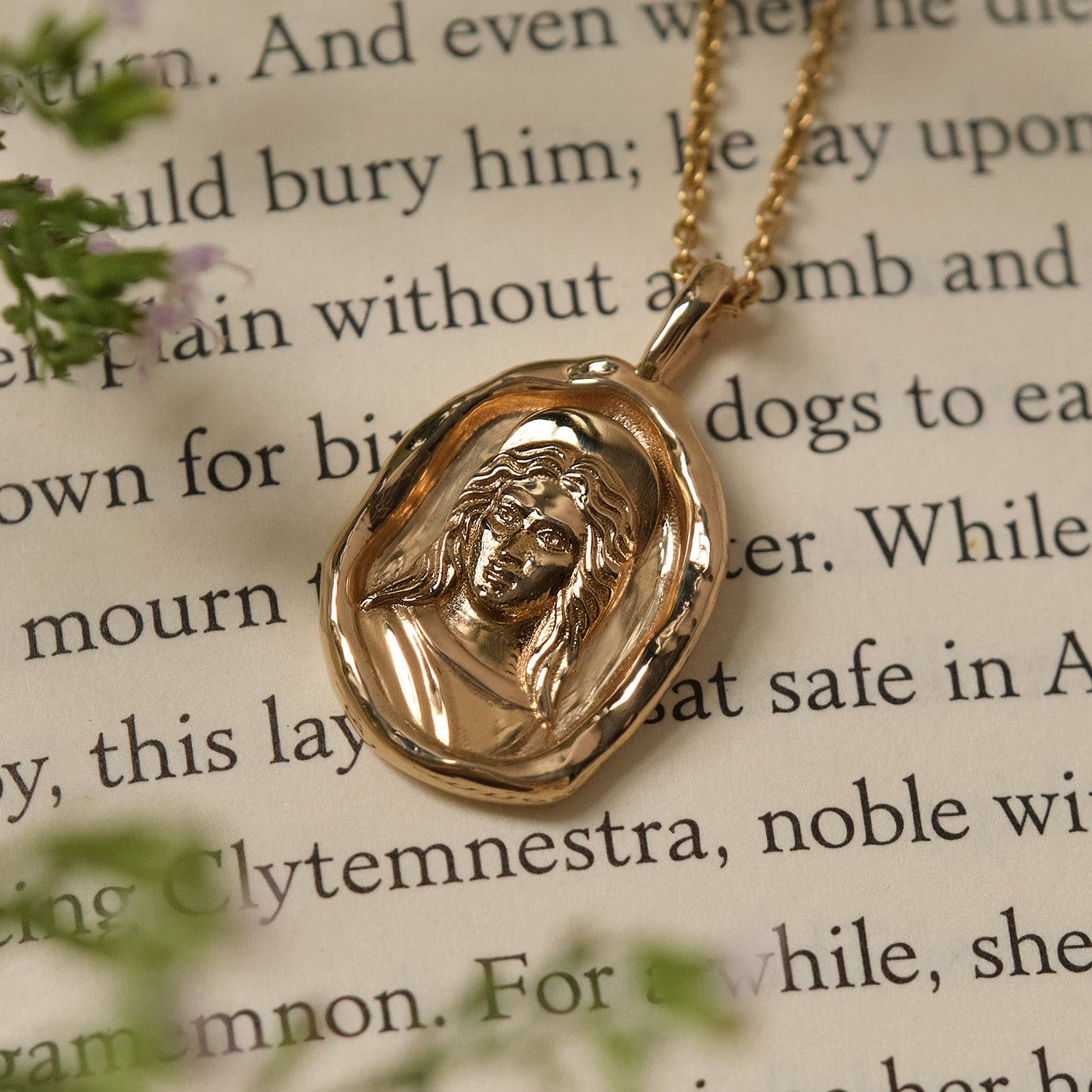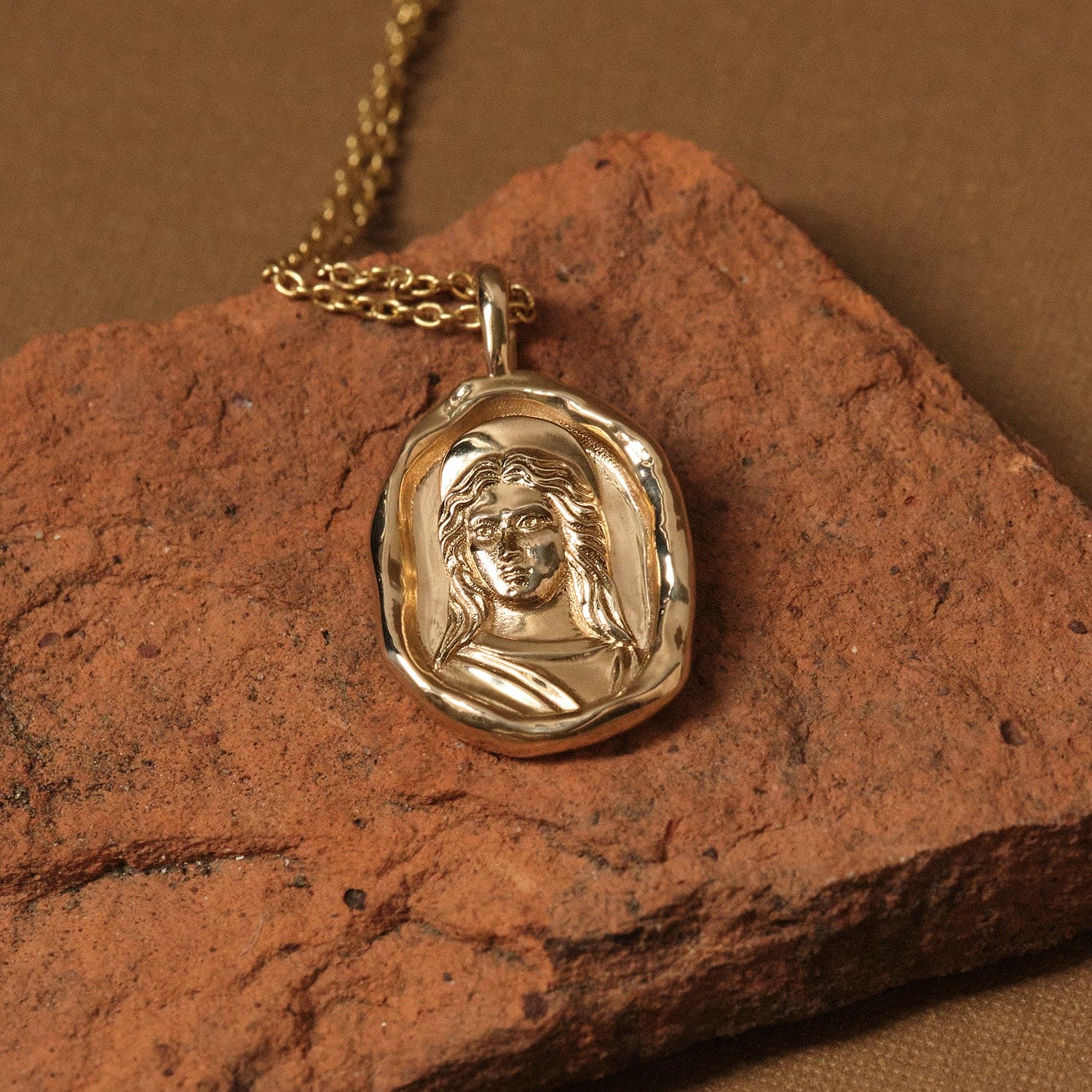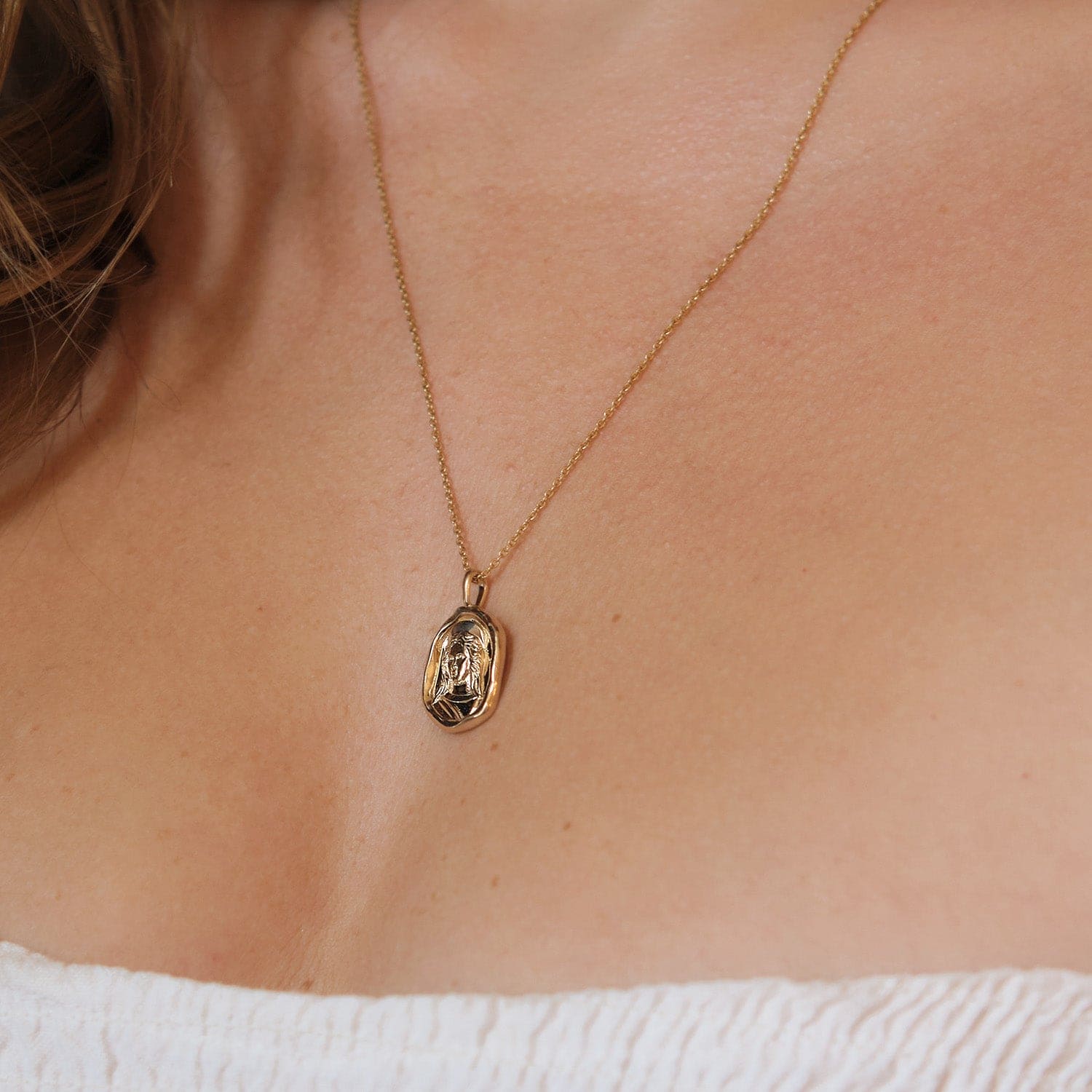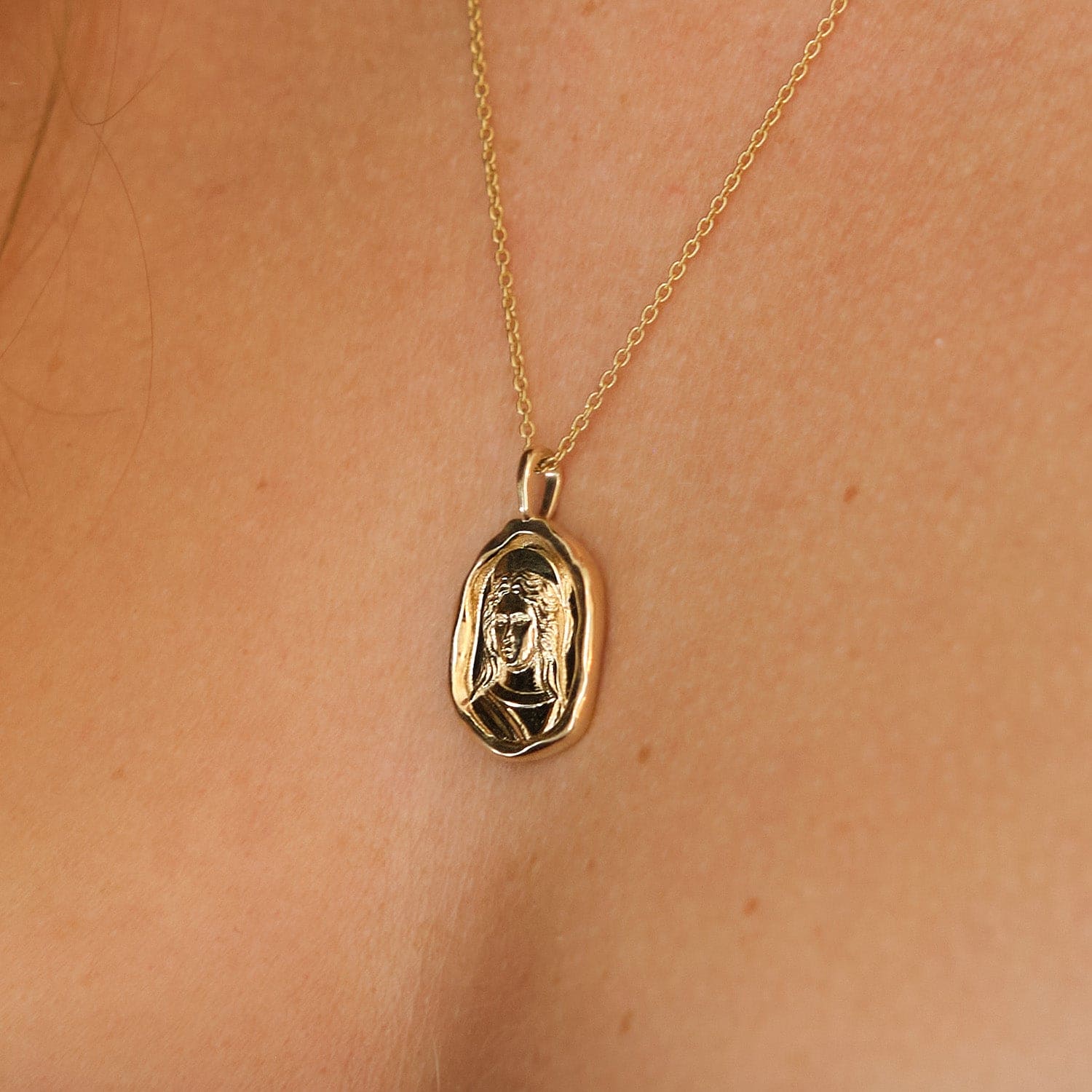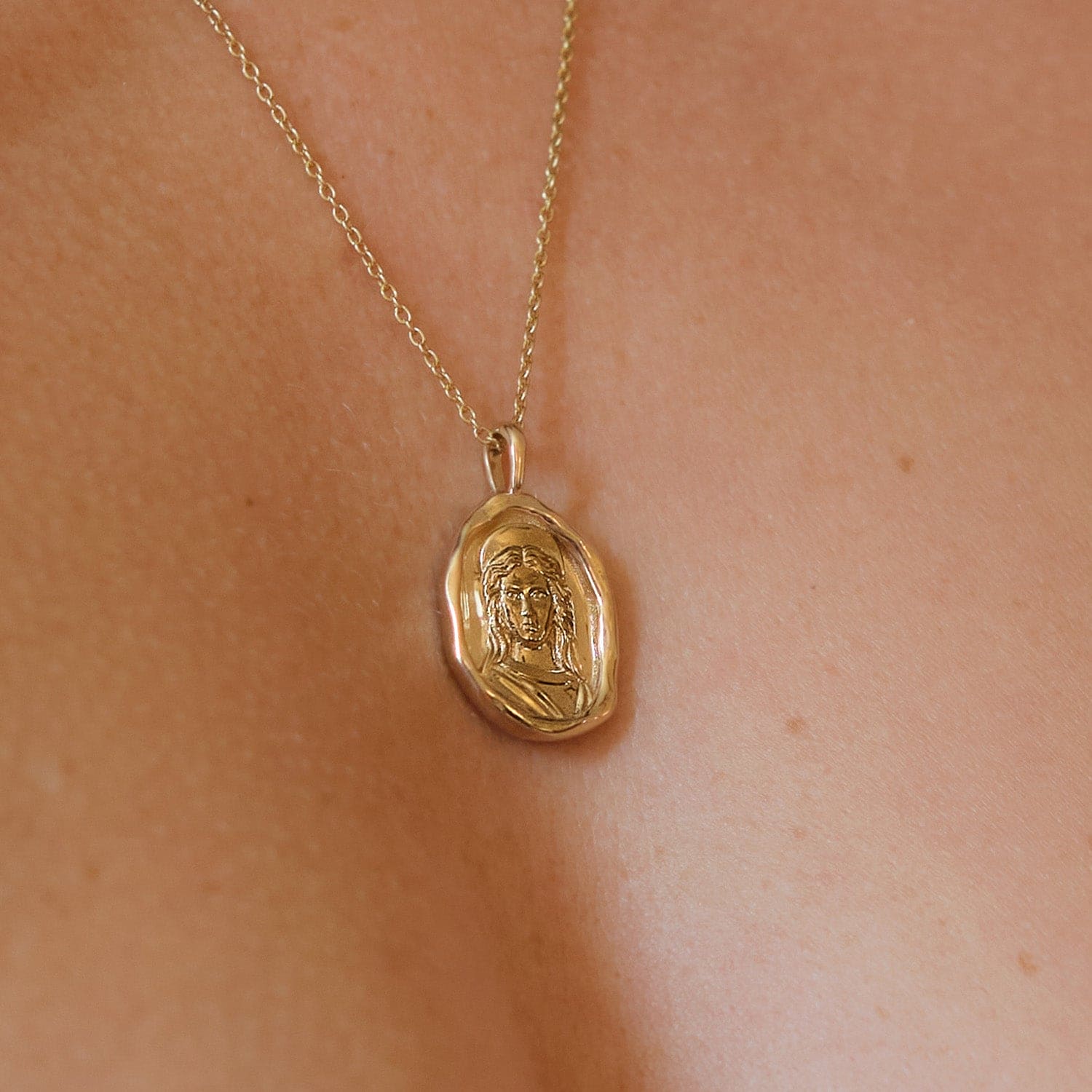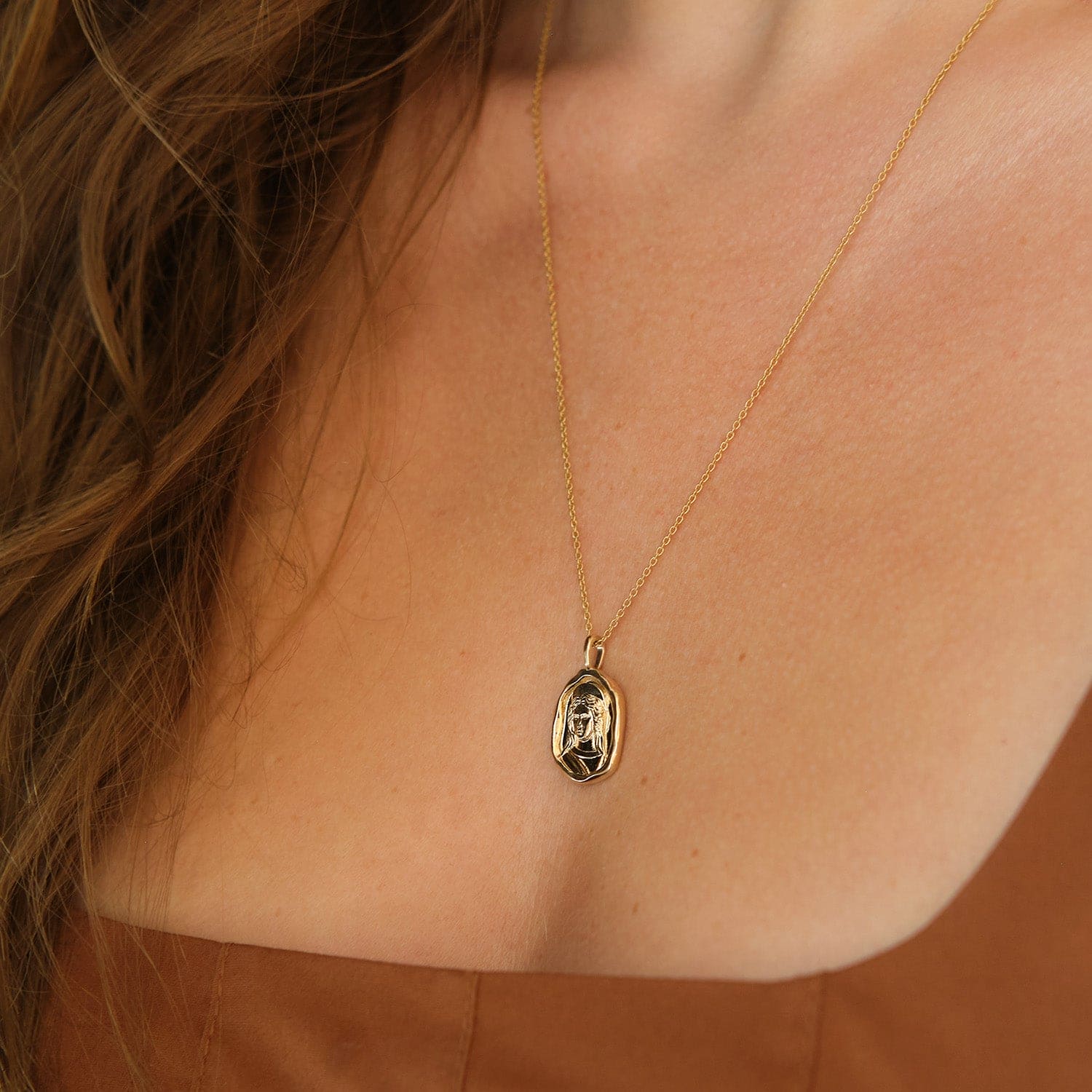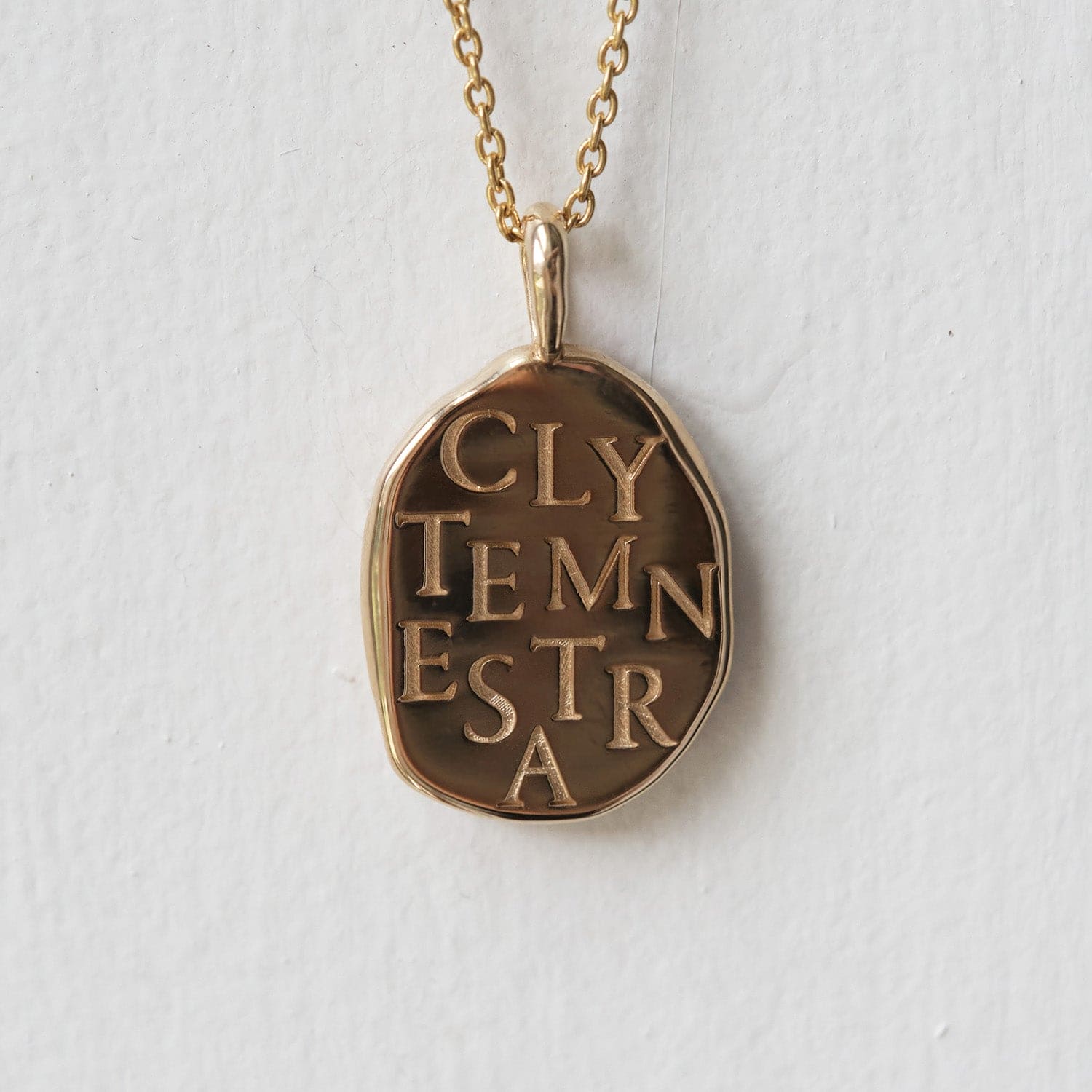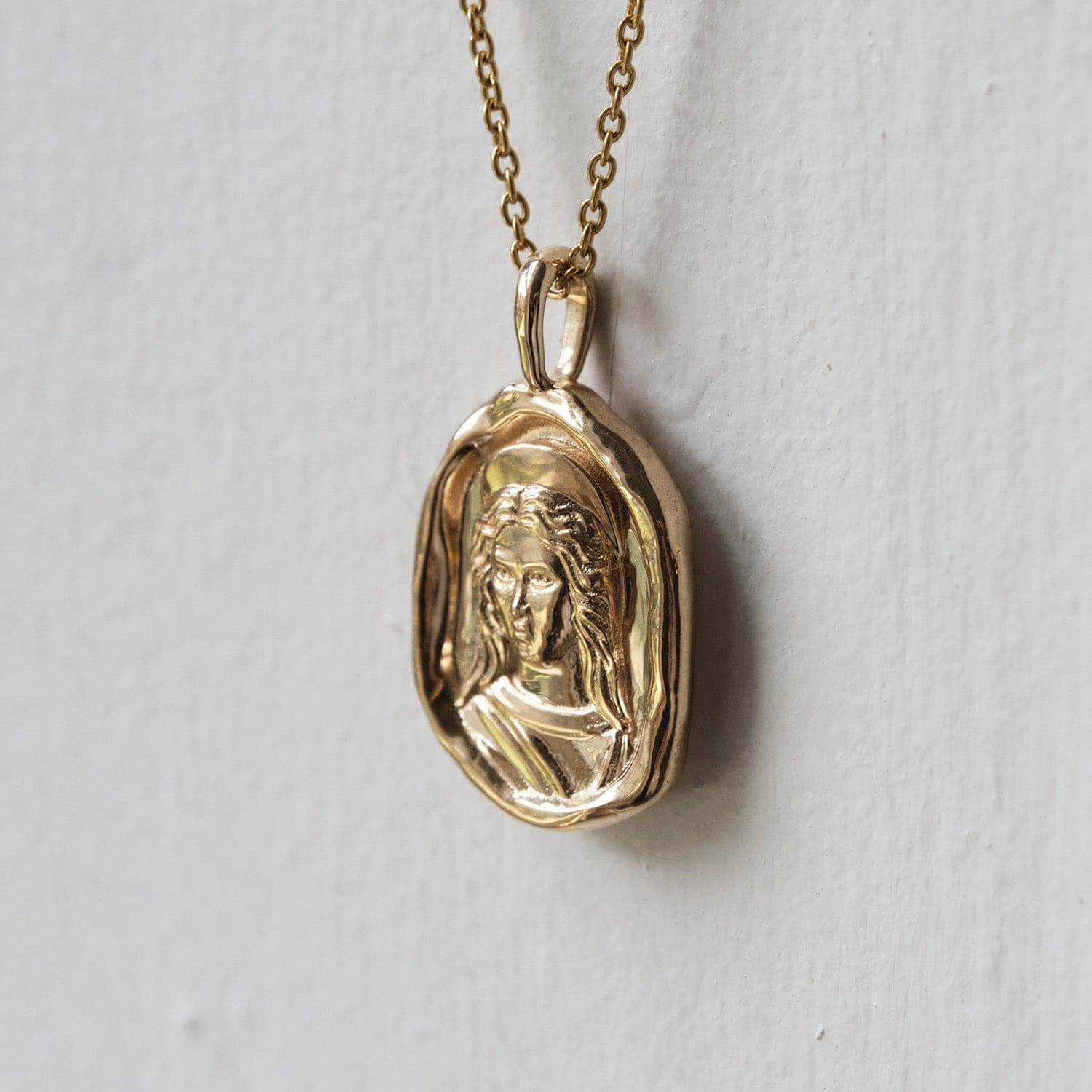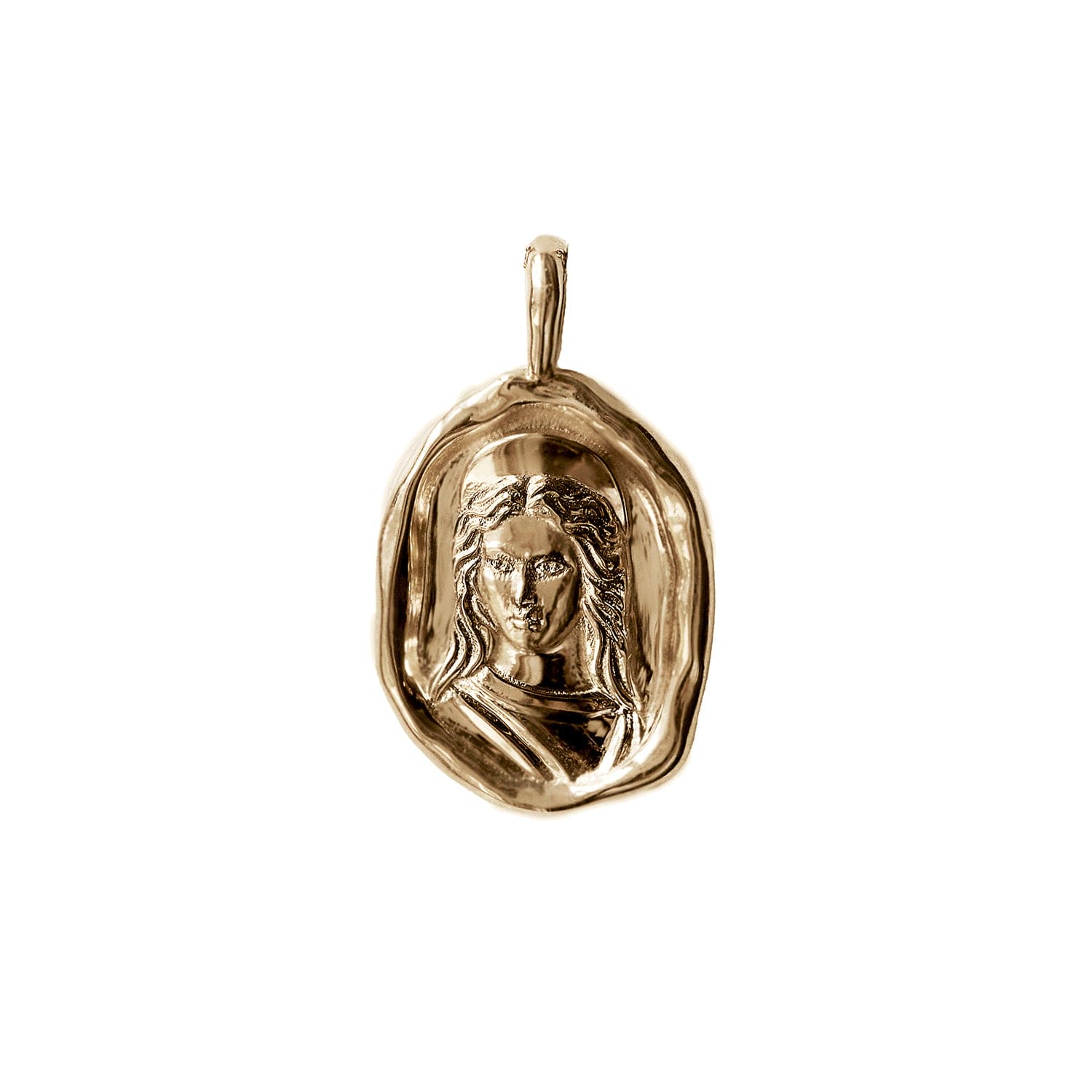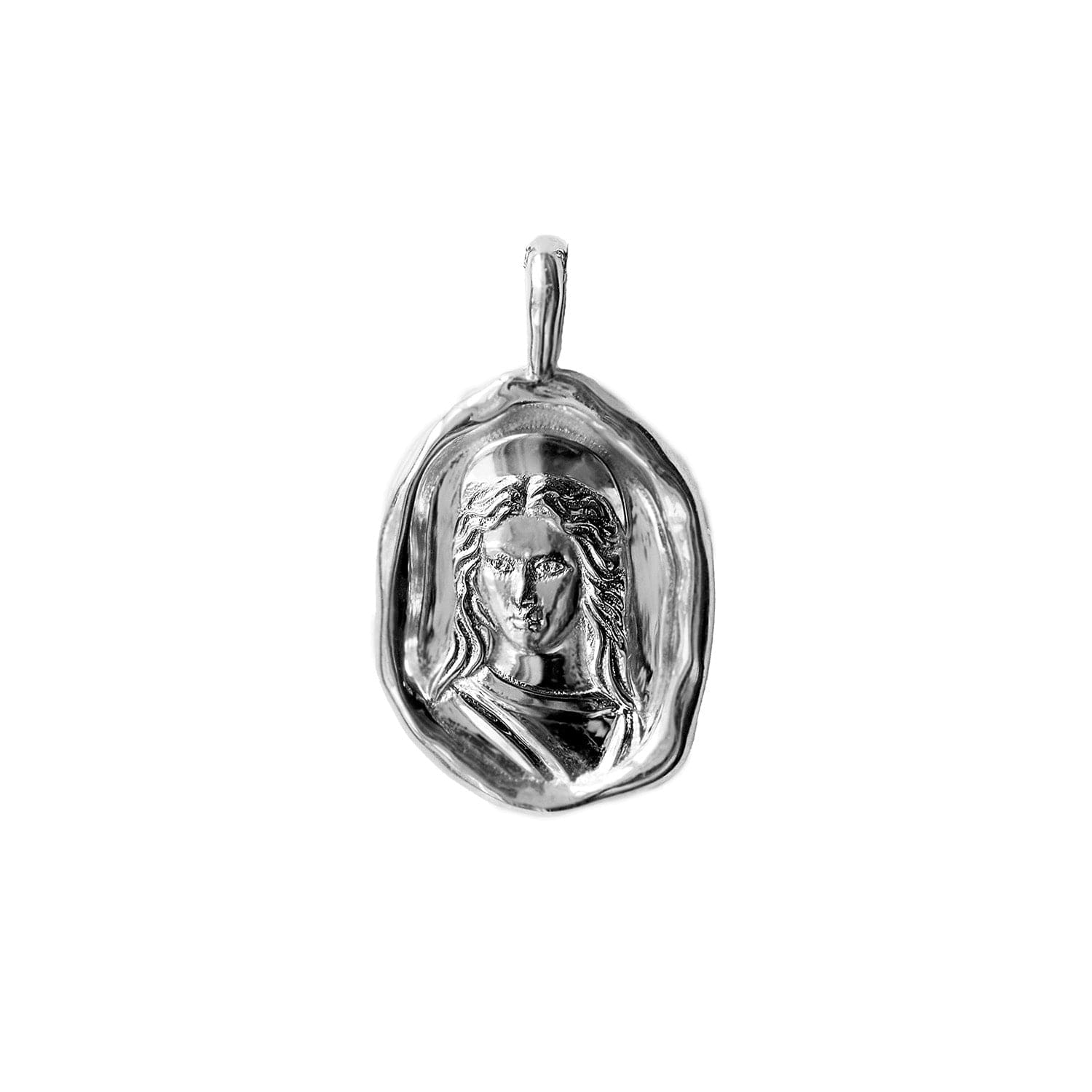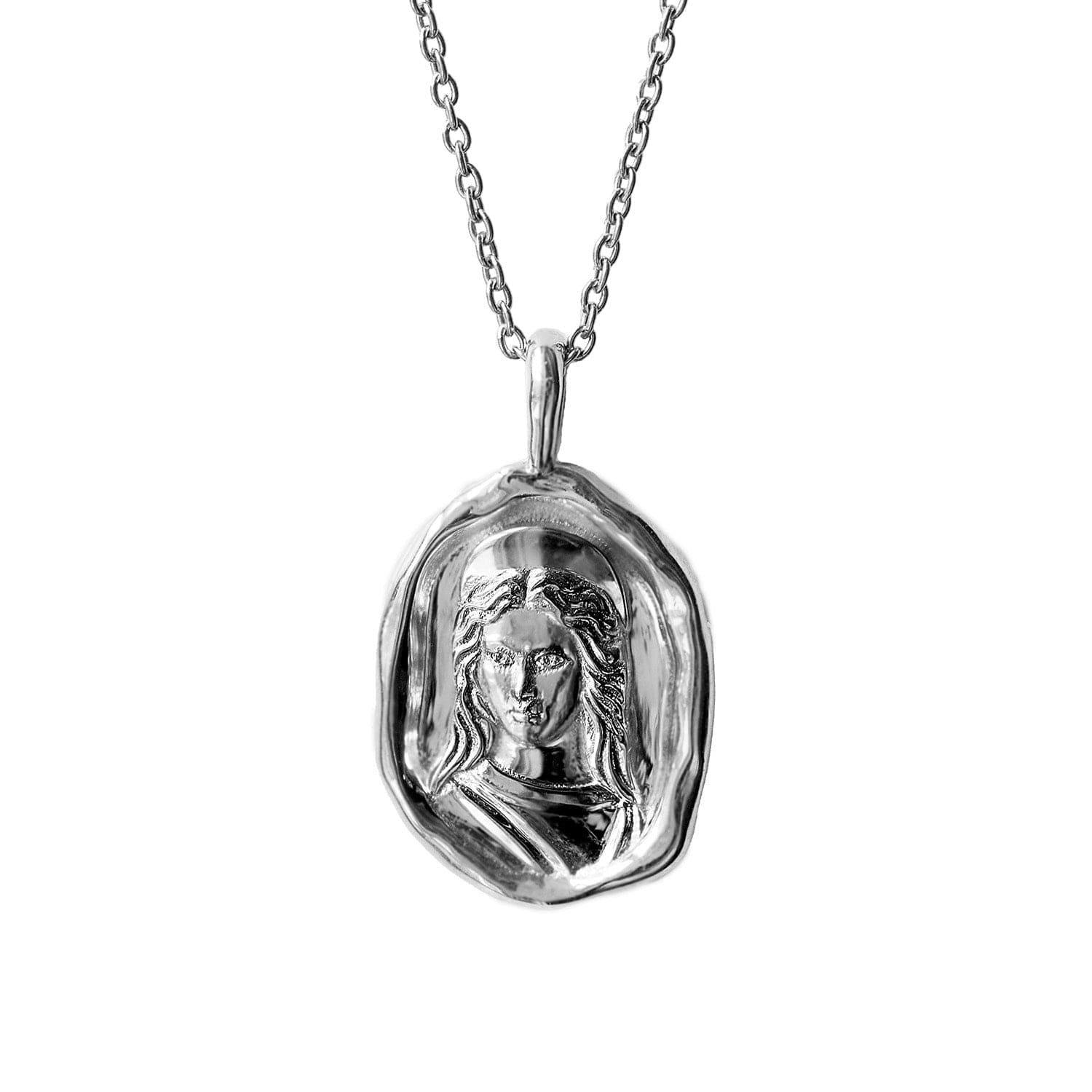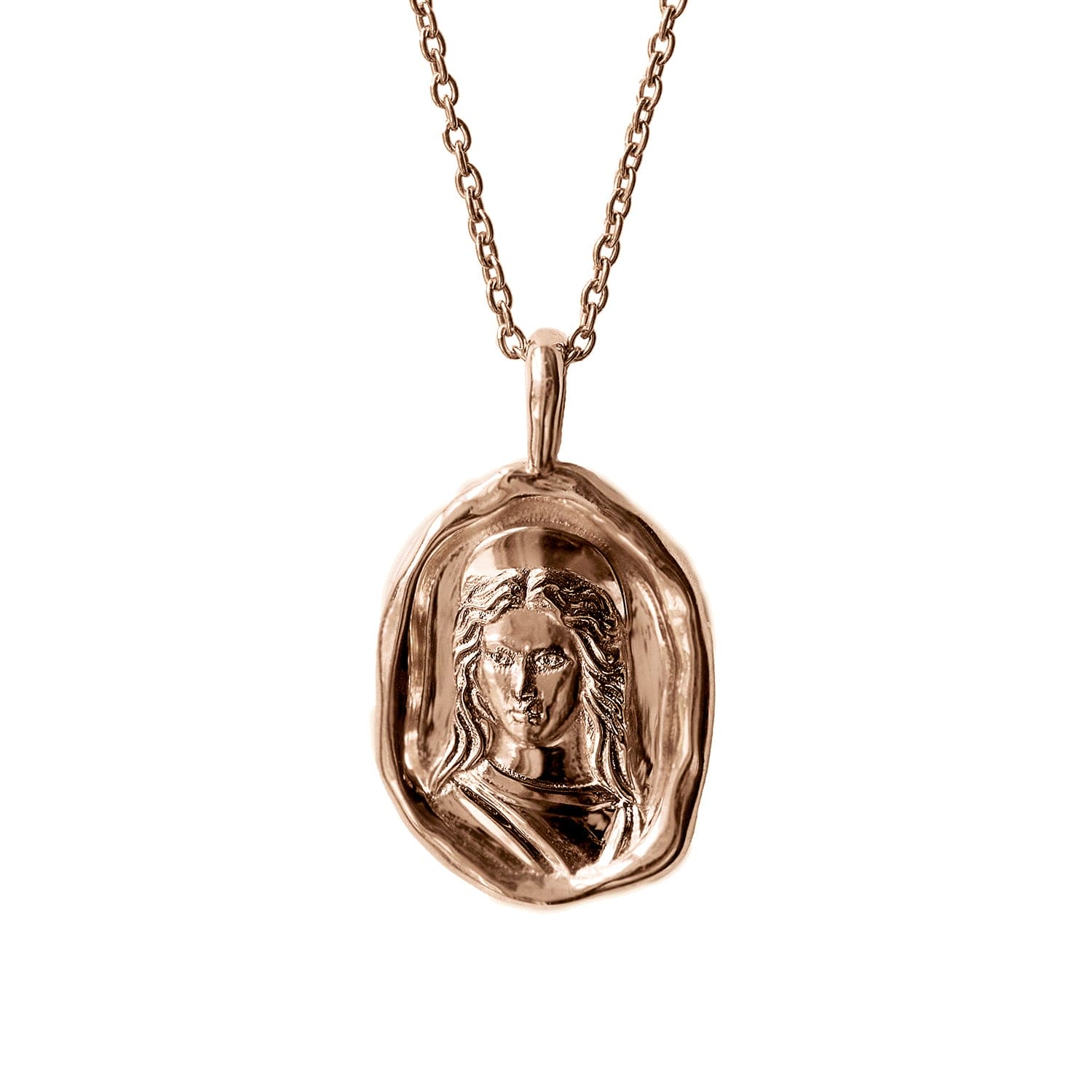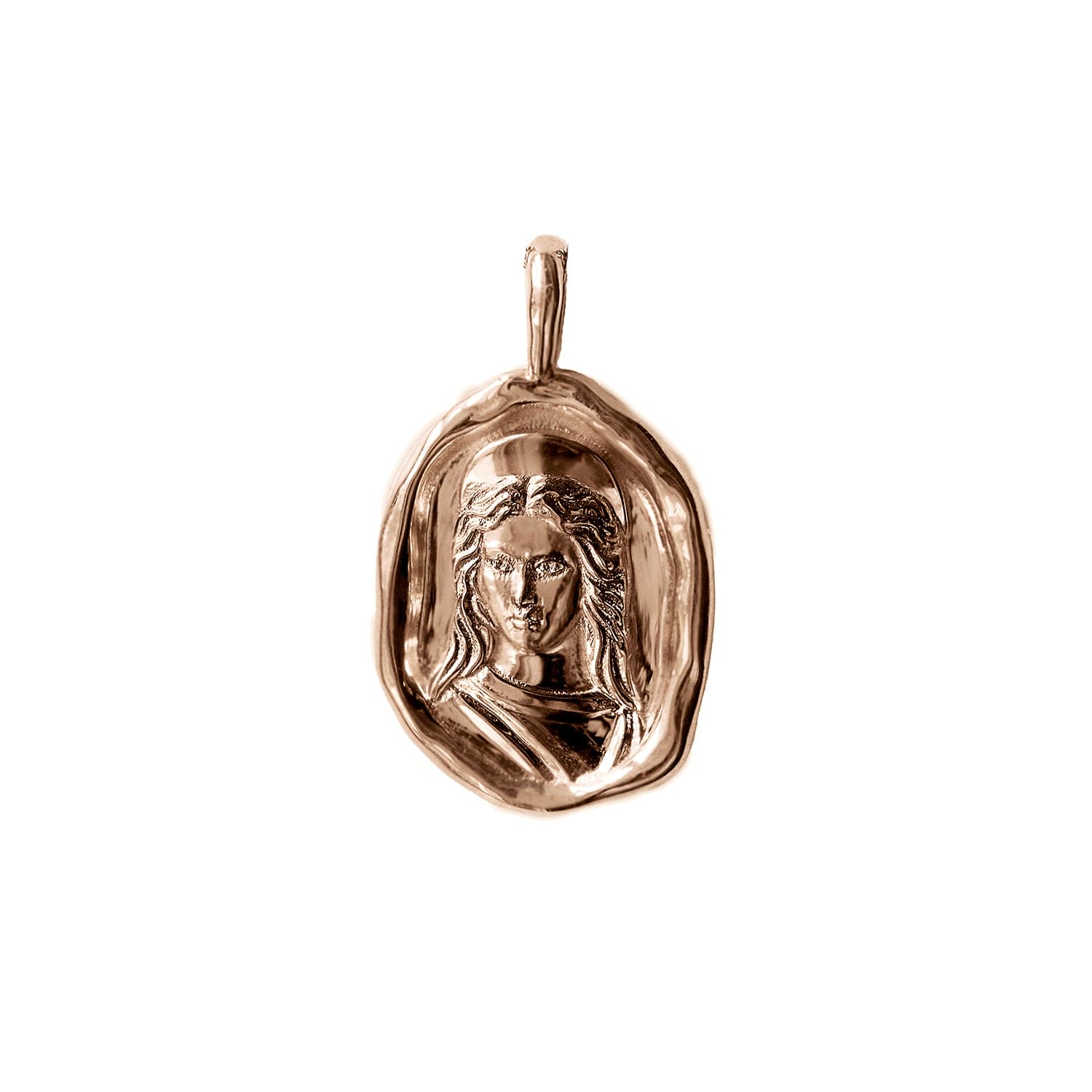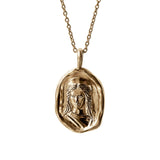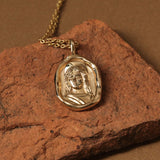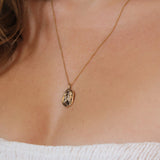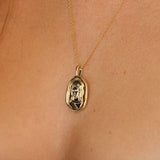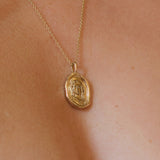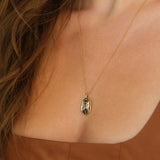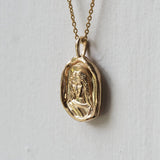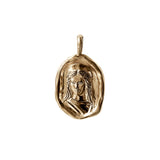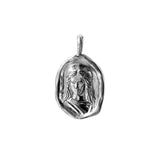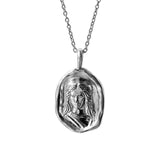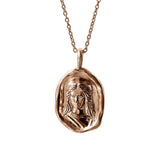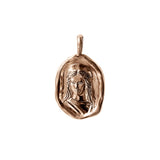 Clytemnestra Molten Gold Pendant
Free shipping and returns
Fairly made, fairly priced
Story

Clytemnestra, the legendary queen of Mycenae, stands as one of the most powerful and complex figures in Greek mythology. Daughter of Tyndareus and Leda, she was not just a queen but a woman of profound depth, caught in the webs of love, betrayal, and vengeance.

Bound to King Agamemnon in marriage, Clytemnestra's world was shattered when he made the harrowing decision to sacrifice their daughter, Iphigenia, to appease the goddess Artemis and gain favorable winds on his army's journey to Troy. This act, a father's betrayal sacrificing an innocent child for the sake of war, ignited a flame of anguish and rage within Clytemnestra. The loss of Iphigenia was not just a personal tragedy; it became the catalyst for one of the most infamous acts of revenge in ancient lore.

Determined to avenge her daughter's unjust death, Clytemnestra, with the aid of her lover Aegisthus, plotted and executed a plan to kill Agamemnon upon his return from the Trojan War ten years later. According to most versions of the myth, Clytemnestra feigned happiness upon his return and lured him into a false sense of security. She then either trapped him in a net or ensnared him with a robe while he was bathing, rendering him immobile. Once he was trapped, Clytemnestra murdered him in his bathtub with an axe.

This act of vengeance was not only for the sacrifice of their daughter, Iphigenia, but also for other grievances, including Agamemnon's taking of Cassandra, a Trojan princess, as a war prize.

While many ancient tales paint her as the vengeful wife, it's essential to see Clytemnestra through a broader lens. She was a woman pushed to her limits, seeking justice in a world where her voice was often stifled. Her actions, though controversial, were a testament to her strength and determination to reclaim her agency.


Clytemnestra's narrative challenges the traditional roles of women in ancient myths, presenting a character who is both a loving mother and a fierce avenger. Her duality, both tender and terrifying, makes her a captivating figure that continues to intrigue and inspire.

This pendant draws inspiration from ancient Greek art, capturing the essence of Clytemnestra's regal stature and indomitable spirit.
About Solid Gold ✨

Solid gold is the best option if you:

1. Want to wear your piece forever or pass it down as an heirloom. Solid gold will last for centuries without degrading.

2. Want to invest in jewelry as an asset rather than an accessory. Gold traditionally appreciates in value and can always be melted down and made into a new piece

Unlike many brands, our gold is never hollow - it is always 100% solid, cast using the lost wax method, meaning there is a lot more gold in each piece.

Our gold is 100% certified recycled and each piece is handcrafted here in New York.
Product Details

Metal:
100% certified recycled 14k solid gold

Gold Weight:
5.5 - 6 grams

Dimensions:
22mm x 15mm
3mm thick

Chain:
20 inch 1mm cable chain with lobster clasp

Hand made in New York City
When will my piece ship? 🚚

We keep a small inventory of solid gold pieces - please check about the 'Add to Cart' button to see if your piece is in stock.

If not, it will display the estimated ship time so that we can custom make it for you in our NYC studio.
What does Traditional Retail Price mean? 💸

Most brands sell through boutiques and department stores, where the pricing model is usually a 2 - 4x markup from their wholesale price. For example, the jewelry brand sells the piece to the store for $1000, and then the store sells it to you for $2,500.

Because Common Era sells directly from our studio, we can give our customers the same pricing we would be giving to wholesale stores.
---
FAQ

When will my order ship?

All pieces except for made-to-order solid gold will ship within 24 hours on business days.

Solid gold orders ship from our NYC studio and the time to ship is indicated above the "Add to cart" button on those pieces.

What if my piece is lost in the mail?

This is in incredibly rare, but if it happens we will make it right with a free replacement.

Solid gold pieces are always shipped with signature required to ensure this doesn't happen.

Does your jewelry come in a box or a pouch?

Both! Our packaging is made in Chicago and consists of a peach-colored vegan suede pouch in a branded box, so they're easy to wrap up as gifts.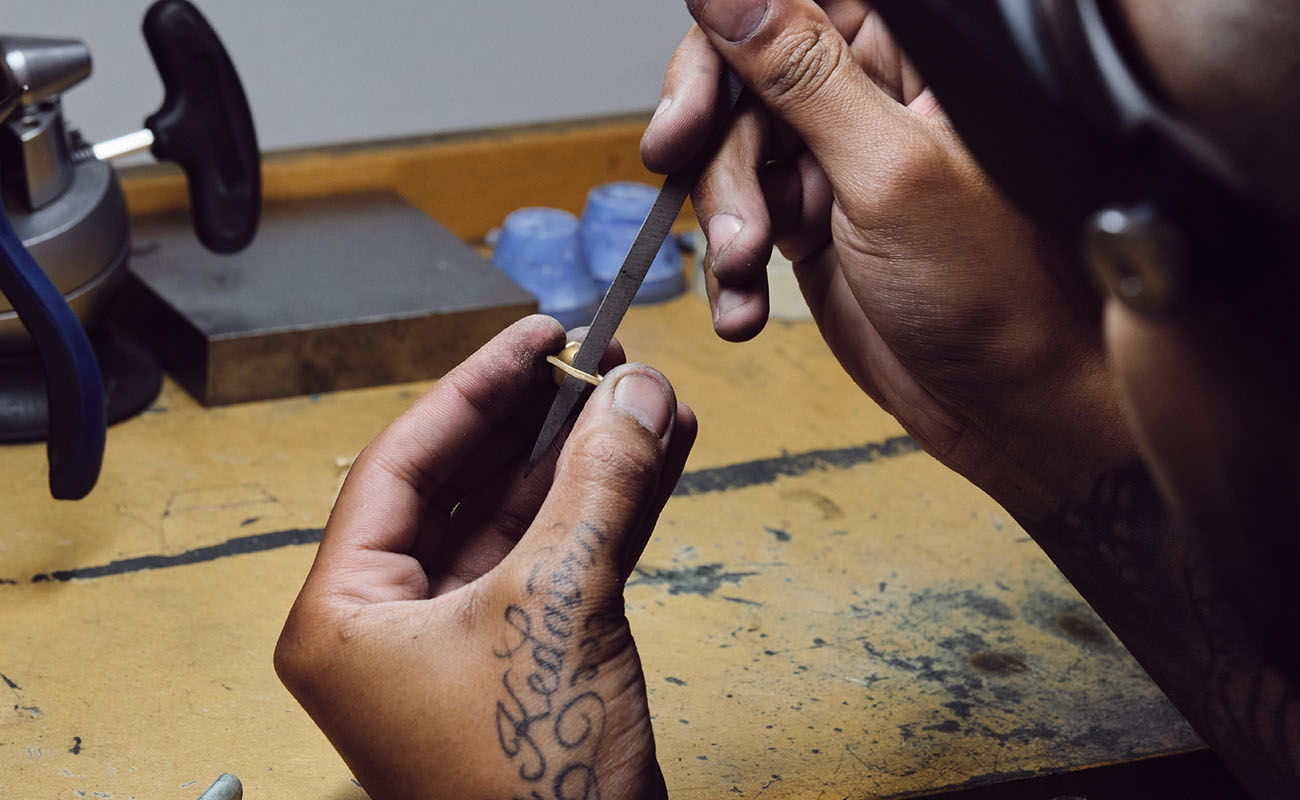 FEATURED BLOG
People are always curious about how jewelry companies price their pieces - how can that tiny little piece be worth $3000? I was one of those skeptical people until I founded...